When considering what to do in Seoul, the myriad options can seem overwhelming, but therein lies the beauty of this bustling city. Over the years, South Korea has experienced a tremendous surge in popularity as a destination for entertainment, tourism, and food. From its dynamic K-pop culture and globally recognized cinema to its awe-inspiring best tourist attractions in South Korea, the country offers a diverse and immersive experience for all who visit.
Seoul, the country's capital, is special in this landscape. As a significant urban center in Asia, this city seamlessly combines timeless customs with innovative technology, creating a captivating fusion. Asia's prominence as a travel destination is rising, and Seoul is at the heart of this trend. Seoul is a veritable gold mine of cultural and culinary experiences; tasting the best Korean cuisine in Seoul is just the beginning.
Stay tuned as we delve deeper into Seoul's top attractions and culinary delights, providing an all-encompassing guide to the best places to visit and foods to try in this vibrant city. So, whether you're a culture enthusiast, a food lover, or simply curious about what to do in Seoul, we've got you covered.
Travel Activities in Seoul
As you ponder over what to do in Seoul, here is a list of the top eleven travel activities that will provide you with an enriching experience and a taste of the best tourist attractions in South Korea.
Visit Gyeongbokgung Palace
This iconic palace stands as a testament to Seoul's rich history. It has enormous historical significance as the largest of the Five Grand Palaces built by the Joseon dynasty. Wander through its expansive grounds, admire the intricate architecture, and don't miss the royal guard changing ceremony.
Explore Myeongdong Shopping Street
Myeongdong is a shopping haven for fashion enthusiasts and beauty lovers. From high-end brands to local boutiques, there are many options to explore. Don't forget to try the street food stalls for some of the best Korean foods in Seoul.
Stroll around Bukchon Hanok Village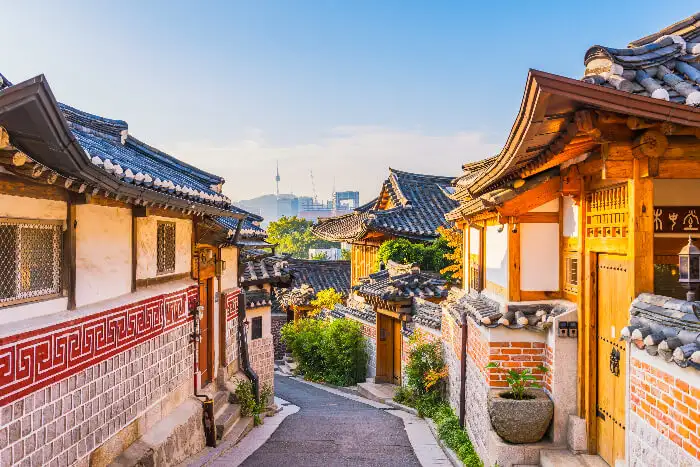 This traditional village offers a glimpse into Korean culture and history. The well-preserved hanboks (traditional Korean houses) and narrow alleyways transport you to a different era. Make a point of visiting the local artisan workshops and teahouses.
Hike up Namsan Mountain and Visit N Seoul Tower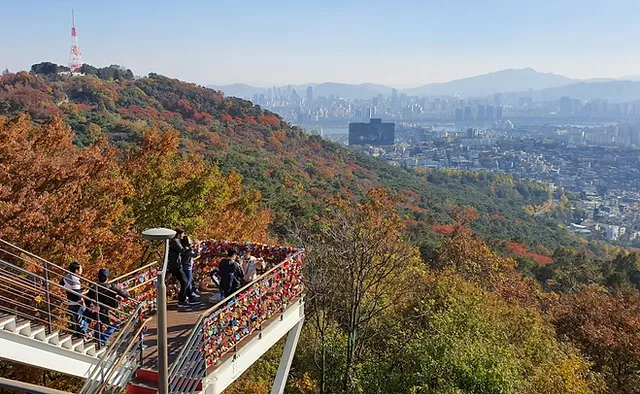 If you're wondering where to go in South Korea for the best city views, a hike up Namsan Mountain is a must. The N Seoul Tower at the summit offers breathtaking panoramic views of Seoul.
Discover Hongdae Street Art and Nightlife
Hongdae is the epicenter of Seoul's vibrant youth culture, filled with trendy cafes, bars, and boutiques. Explore the street art murals during the day, and experience the pulsating nightlife when the sun goes down.
Visit DMZ (Demilitarized Zone)
Visiting the DMZ offers a sobering glimpse into the Korean War's legacy. Guided tours offer insights into this historical context and an opportunity to explore attractions like the Third Tunnel of Aggression and the Dora Observatory.
Explore Insadong Cultural Street
Insadong is a hub for traditional Korean culture, with antique shops, art galleries, and traditional performances. Try a cup of traditional Korean tea in one of the many teahouses lining the street.
Visit Dongdaemun Design Plaza
This futuristic design hub, known for its modern architecture, is a must-visit for design and art lovers. Check out the various events and exhibitions, and marvel at the iconic LED Rose Garden.
Relax in Cheonggyecheon Stream
This urban oasis in the heart of Seoul provides a tranquil respite from the city's bustle. Enjoy a leisurely walk along the stream or partake in one of the annual festivals held here.
Experience Korean Spa at a Jjimjilbang
For a truly unique experience, visit a Jjimjilbang, a traditional Korean spa. Enjoy a variety of saunas, hot tubs, and even entertainment facilities.
Visit Changdeokgung Palace and Secret Garden
Changdeokgung Palace, a UNESCO World Heritage site, is famous for its Secret Garden, a tranquil area filled with pavilions, ponds, and beautifully landscaped gardens. When deciding where to go in South Korea, it's among the best places to visit.
The array of experiences in Seoul is diverse, catering to history buffs, food lovers, adventure seekers, and shopaholics alike. Indeed, Seoul is a city that never ceases to amaze and inspire.
Best Korean Foods to Try
Aside from having some of the best tourist attractions in South Korea, Seoul's gastronomic scene is a food paradise. Figuring out what to do in Seoul is incomplete without delving into Korean cuisine's flavors and textures.
Korean cuisine in Seoul is marked by its diversity and balance. It brings together a variety of ingredients, flavors, and techniques that make every meal a culinary journey. From spicy to sweet, tangy to savory, something suits every palate.
Kimchi
This fermented cabbage dish, spiced with chili pepper and garlic, is a staple in every Korean meal. Its tangy and spicy flavors are both refreshing and addictive.
Bibimbap
A delightful rice medley, sautéed vegetables, meat, and gochujang (chili pepper paste), topped with a sunny-side-up egg. Mix it all and savor the harmony of flavors. For the best bibimbap, head to Gogung in Insadong.
Samgyeopsal
This popular Korean BBQ dish features thick slices of pork belly grilled perfectly. Enjoy it wrapped in lettuce with garlic, ssamjang (a thick, spicy paste), and kimchi. Mapo Jeong Daepo is famous for its Samgyeopsal.
Korean BBQ
No visit to Seoul is complete without experiencing a Korean BBQ feast. Marinated meats like bulgogi (thinly sliced, marinated beef) and galbi (marinated short ribs) are grilled right at your table.
Tteokbokki
These spicy stir-fried rice cakes are a portion of popular street food in Seoul. Chewy, spicy, and slightly sweet are essential Korean food experiences. Visit Hongdae's bustling streets for the best tteokbokki stands.
Japchae
A classic Korean dish, japchae is a colorful mix of glass noodles, stir-fried vegetables, and meat seasoned with soy sauce and sesame oil. Head to Myeongdong Kyoja for the best japchae.
No matter where you go in Seoul, a delightful culinary experience awaits you. Seoul truly offers a unique blend of old and new, tradition and innovation, from its historic sites to its bustling markets and delectable food. Whether you're a first-time visitor or a returning traveler, there's always something new to discover and enjoy in this dynamic city.
Unveiling the Enchanting Fusion of Tradition and Modernity
From the best tourist attractions in South Korea to the best Korean foods in Seoul, the city is a treasure trove of cultural, historical, and culinary delights that beckon visitors from all corners of the globe. Seoul is a city that marries the past and the future, where skyscrapers tower over ancient palaces and where traditional markets bustle alongside cutting-edge design plazas.
If you're still undecided about where to go in South Korea, Seoul should unquestionably be at the top of your list. Seoul is not just a city to visit but a city to experience. Each street, each dish, each historical site, and each interaction is a story waiting to be discovered. So why wait? Start planning your journey to Seoul, South Korea, and prepare to make unforgettable memories. Because in Seoul, every moment is a new adventure.