When one thinks of London, iconic landmarks such as the Tower of London, the London Eye, and the British Museum come to mind. However, apart from these architectural wonders, London also boasts an array of breathtaking garden destinations perfect for rejuvenating day trips. This sprawling metropolis is not just a concrete jungle but is interspersed with patches of lush green spaces, delightful floral exhibits, and tranquil botanical havens that provide a refreshing break from the city's bustling streets.
Spending time in gardens cannot be overstated, especially for seniors. Gardens are serene and calming, offering a welcome respite from the usual urban life. They provide an opportunity to connect with nature, improving mental well-being by reducing stress and enhancing mood. Furthermore, walking in these green spaces is a gentle exercise, promoting cardiovascular health and improving mobility and balance in the elderly.
This article will highlight some of the best garden day trips in London, each offering a unique experience that can help promote physical and mental health, foster an appreciation for nature's beauty, and perhaps even inspire a newfound passion for gardening. Stay with us as we set out on a botanical tour of London.
Best Garden Day Trips in London
London offers a plethora of garden day trip destinations that showcase the city's beauty and natural wonders. From historic gardens to modern marvels, each destination offers a unique experience for visitors. Let's explore some of the best garden day trip destinations in London.
1. Kew Gardens
Kew Gardens, officially known as the Royal Botanic Gardens, is a world-renowned botanical garden in southwest London. It has a rich history dating back to the 18th century and has played a pivotal role in plant research, conservation, and botanical discoveries. It is known for its scientific and educational contributions, making it a centre of excellence in plant knowledge.
Unique Attractions/Features:
An iconic Victorian glasshouse that houses a diverse range of tropical plants, including towering palm trees.
The largest surviving Victorian glasshouse in the world, housing various temperate plants from different regions.
A 200-meter-long elevated walkway offering stunning views of the gardens above the treetops.
Visitor Information:
Hours: Open daily from 10 am to 6:30 pm (varies seasonally).
Location: Richmond, Surrey, TW9 3AE.
Admission Fees Apply: Discounts are available for seniors.
2. Chelsea Physic Garden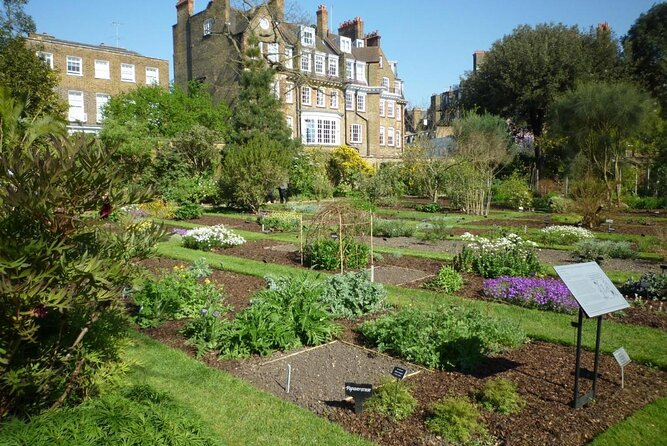 Chelsea Physic Garden is a hidden gem in the heart of Chelsea, London. Established in 1673, Chelsea Physic Garden has a rich plant exploration and conservation history. It was crucial in introducing many plants to the UK, including the popular tea and potato plants.
Unique Attractions/Features:
Garden of Medicinal Plants
Showcases a diverse range of plants with medicinal properties, providing visitors with an insight into traditional healing practices.
Features a picturesque pond and an array of alpine plants, creating a tranquil atmosphere.
Explore various climate-controlled glasshouses that house a collection of exotic and tender plants.
Visitor Information:
Hours: Open Tuesday to Sunday from 11 am to 6 pm.
Location: 66 Royal Hospital Road, Chelsea, London, SW3 4HS.
Admission Fees Apply: Discounts are available for seniors.
3. Hampton Court Palace Gardens
Hampton Court Palace Gardens is in the historic Hampton Court Palace, a magnificent Tudor palace on the River Thames' banks. The gardens at Hampton Court Palace date back to the 16th century and were redesigned by famous landscape architects, including Capability Brown. They represent different periods of garden design and offer a glimpse into royal horticulture.
Unique Attractions/Features:
A beautifully restored Tudor garden featuring geometric beds, vibrant flower borders, and a central fountain.
The largest grapevine in the world, planted in 1769, still producing abundant grapes.
A tranquil and secluded garden that combines native wildflowers, ornamental trees, and winding paths.
Visitor Information:
Hours: Open daily from 10 am to 6 pm (varies seasonally).
Location: Hampton Court Palace, East Molesey, Surrey, KT8 9AU.
Admission Fees Apply: Discounts are available for seniors.
4. London Wetland Centre
Opened in 2000, the London Wetland Centre was created to promote the conservation of wetlands and their diverse ecosystems. It plays a crucial role in providing a habitat for numerous bird species, including rare and migrating birds.
Unique Attractions/Features:
Explore a series of walking trails and hides that allow visitors to observe various bird species and wetland wildlife up close.
A specially designed observatory offering panoramic views of the wetlands and an opportunity for birdwatching.
Home to a family of playful otters, where visitors can watch them swim, play, and feed.
Visitor Information:
Hours: Open daily from 9:30 am to 6 pm (varies seasonally).
Location: Queen Elizabeth's Walk, Barnes, London, SW13 9WT.
Admission Fees Apply: Discounts are available for seniors.
5. Sky Garden
Opened in 2015, Sky Garden is a public space that spans three floors and provides a unique urban oasis in a bustling city environment. It is a popular attraction, offering a blend of gardens, restaurants, and observation decks.
Unique Attractions/Features:
A landscaped garden area with abundant exotic plants, flowers, and trees, providing a serene retreat amidst the cityscape.
Enjoy breathtaking views of London's iconic landmarks, including the River Thames, Tower Bridge, and St. Paul's Cathedral.
Sky Garden offers a range of restaurants and bars, allowing visitors to indulge in a meal or a drink while enjoying the spectacular views.
Visitor Information:
Hours: Open daily from 10 am to 6 pm (varies seasonally). Booking in advance is required.
Location: 20 Fenchurch Street, London, EC3M 8AF.
Admission is free, but there may be a charge for dining. Booking in advance for the observation decks is recommended.
Garden day trips in London offer a delightful escape into nature, each with unique charm and features. Whether you seek botanical wonders, historic landscapes, or a tranquil retreat, these gardens provide an unforgettable experience for visitors of all ages.
Benefits of Having Garden Day Trips in London for Seniors
Garden day trips in London can benefit seniors, enhancing their overall well-being and quality of life. Regarding garden day trips in London, seniors can enjoy specific advantages unique to these locations.
Let's explore the benefits of having garden day trips in London, especially for seniors:
Physical Exercise and Mobility
Visiting garden day trips in London involves walking, exploring various paths, and enjoying the natural surroundings. This physical activity promotes mobility, flexibility, and gentle exercise, improving cardiovascular health, joint flexibility, and overall fitness.
Mental Stimulation and Cognitive Health
Gardens offer a visually captivating environment with many colors, textures, and natural elements. This visual stimulation can enhance cognitive function, attention, and memory recall, keeping seniors mentally engaged and stimulated.
Stress Reduction and Relaxation
Garden day trips in London provide serene environments away from the hustle and bustle of the city. The calming ambiance, soothing sounds of nature, and beautiful landscapes can promote relaxation, reduce stress levels, and improve mental well-being.
Social Engagement and Connection
Garden day trips in London allow seniors to socialize and connect with fellow visitors, garden staff, or friends and family accompanying them. Engaging in conversations, sharing experiences, and fostering connections can combat loneliness, enhance social skills, and promote a sense of belonging.
Sensory Stimulation and Therapeutic Benefits
The sensory experience of gardens, including the sight of blooming flowers, the fragrance of plants, the touch of leaves or petals, and the sounds of birds and nature, provide sensory stimulation. This stimulation can have therapeutic benefits, such as reducing anxiety, promoting relaxation, and improving mood.
Appreciation of Nature and Environmental Awareness
Garden day trips allow seniors to appreciate nature's beauty, learn about different plant species, and gain awareness of environmental conservation. Engaging with the natural world can help people feel more connected to the environment and gain a greater awareness of the value of preserving green spaces.
From physical exercise and mental stimulation to stress reduction and social engagement, these garden day trips in London can provide seniors with various physical, mental, and social benefits that promote overall well-being and enjoyment.
London's Green Prescription
Garden day trips in London, especially for seniors, promote their physical, mental, and social well-being. These garden day trips in London testify to the city's commitment to preserving nature and providing serene havens within the urban landscape. Engaging with nature and experiencing the beauty of gardens can have therapeutic effects, reducing stress and fostering a sense of connection with the environment.
If you're in London, don't miss the opportunity to explore these green paradises for a refreshing day out. Whether you seek serenity, horticultural knowledge, or simply a change of scenery, these garden day trips in London offer various benefits. Visit these garden day trips in London and let the allure of the city's gardens enrich your senses and rejuvenate your spirit.